PRODUCTS - PVC

Safety work
apron

Multifunctional
carry mat

Multifunctional
carry mat
fit to metal stand

Multifunctional
carry mat
fit to vicker basket

Carrier bag
fit to trolley

Carrier bag
fit to trolley

Universal
carrier bag

Universal
carrier bag
fit to metal stand

Universal
carrier bag

Firewood log
carrier bag

Firewood log
carrier bag
fit to metal stand

Metal stand
and wood carrier set

Carrier bag
and trolley set

Carrier bag
and trolley set

Metal wood
stand

Wicker basket
and wood carrier set
Carrier bag
and trolley set
Bag Dimensions: 44x31x70 cm
Ideal for transporting wood.
Strong and durable construction ensures stability and safety of transported load.
Made of a tough and resistant materiall which guarantees many years of usage. Waterproof fabric allows you to use it in wet and messy conditions Not only a practical set for the movement of wood,but also for the garden and on large shopping purchases etc.
ADVANTAGES:
bag made of a material with a high resistance to tearing and clearing
easy and safe movement, practical and stable construction
large, durable wheels, easy handling and maneuvering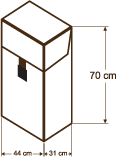 Capacity -
95,5 l
Permissible load -
100 kg
Material -
coated fabric, PVC
Packed in a cardboard box meauring -
1045x480x530 mm
Gross weight -
12,00 kg
Available colors:
GREEN - Art. no 09.00-03
BLACK - Art. no 09.00-07
BEIGE - Art. no 09.00-08